Sulzer Lab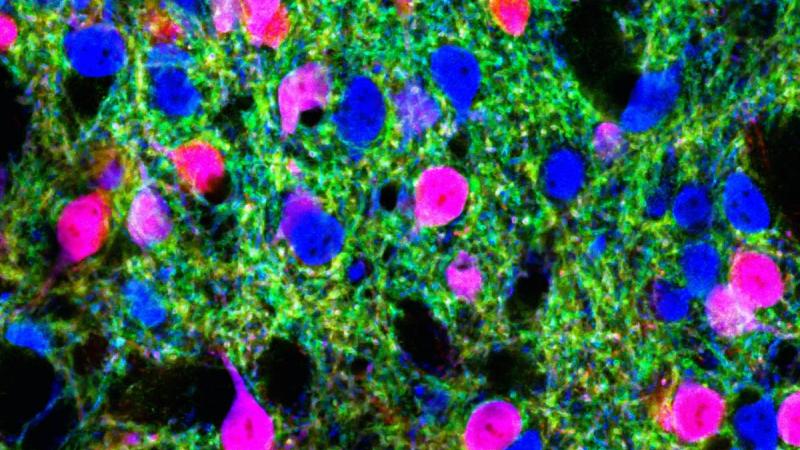 Location and Contact Information
1051 Riverside Drive
Kolb 4th floor, Unit 1
United States
Our laboratory conducts research on the synaptic basis of normal learning and behavior and how these synapses are involved in nervous system disorders, including neurodegeneration such as Parkinson's and Huntington's disease, neurodevelopmental diseases including autism and schizophrenia, and behavior disorders such as drug addiction, depression and post-traumatic stress.

We focus on the circuits that integrate sensory inputs, such as sound and smell, that project via the cortex and thalamus to the basal ganglia, with evaluatory inputs such as the dopamine system that determine if a behavior is effective. The ability of these signals to control synapses formation, strength and elimination underlie the learning of fundamental behaviors, including motor skills and the acquisition of language, social behaviors and personality during development. Disturbances at these synapses underlies the set of disorders that we study. Much of our research advances physiology and computation to study synaptic plasticity during behavior and how this underlies operant, Pavlovian, and motor learning, while working in simpler systems to define the rules that provide synaptic plasticity.

We also use cell biology approaches that have contributed to understanding the cause of brain disorders. This includes a major effort in neuroimmunology, particularly to characterize the role of the adaptive immune system in brain disorders, including Parkinson's disease: for this research, we have established a broad network of immunology, molecular biology and neuropathology groups. We have also shown that autism spectrum disorders are related to specific alterations in neuronal and synaptic development, including alterations in mTOR and lysosomal autophagy pathways that regulate synaptic pruning and neuronal excitability. Several of these directions have yielded new therapeutic directions that are now being tested.

To enable this research, our lab develops and adapts a broad range of approaches. These include physiological techniques like electrochemical recordings that measure dopamine neurotransmission in real-time, electrophysiology, and optical approaches including multiphoton microscopy, and we apply these techniques to neuronal culture, acute slice preparation and in vivo models. 

Our lab developed the first methods to directly record the fundamental unit of neurotransmitter release (the quantal event) and its kinetic modulation (using amperometry), developed the culture methods for primary dopaminergic neurons (with Stephen Rayport), and with Dalibor Sames's lab, invented the first optical methods for detecting neurotransmitter uptake and release (fluorescent false neurotransmitters). We discovered autoimmune features of Parkinson's disease and neuronal antigen presentation (with Alessandro Sette) and are defining the immunological features of brain disorders in human and animal models. We introduced the study of autophagy in neurons and are determining the role of these pathways in autism, the developmental steps for basal ganglia neuron maturation, synaptic formation and pruning, and how these change in neurodegeneration.

Our lab now has graduate student and postdoc opportunities available for basic and medical researchers. Our collaborating laboratories further provide lab members ways to combine disciplines to arrive at new approaches. These include labs specializing in molecular biology (Peter Sims, Columbia), synthetic chemistry (Dalibor Sames, Columbia), cell biology (Ana Maria Cuervo, Einstein University; Robert Edwards, UCSF, Francesca Bartolini, Columbia), immunology (Alessandro Sette, La Jolla Institute for Immunology, Dritan Agailliu, Columbia) and computation (Steve Feiner, David Knowles, Columbia, Jin Hyung Lee, Stanford). Lab members are encouraged to visit and conduct research with these collaborators.

Previous trainees from our lab are now professors running their own labs at Yale, Emory, NYU, Tufts, Karolinska, Ecole Normale Superieure, Rutgers, Jefferson Columbia and the Universities of Lisbon and Pittsburgh, and several have founded or run biotech firms or laboratories. Undergrad and graduate students have won Fulbright, Marshall, and Regeneron prizes from their research in the lab. The lab has produced over 240 peer-reviewed papers in major journals that have been cited over 45,000 times. Dr. Sulzer is the founder of the first basic science conference in Parkinson's disease (the Gordon conference) and is co-founder of the Dopamine Society.
Explore Our Research
Contact the Sulzer Lab
By Phone:
By Email:
Lab Members
Current Members
David Sulzer, PhD

Professor of Psychiatry, Neurology, Pharmacology

Dave Sulzer is a professor of Psychiatry, Neurology, Pharmacology, and at the School of the Arts at Columbia University and New York State Psychiatric Institute. He attended Michigan State University, studied plant breeding and genetics at the University of Florida, and received a PhD in biology from Columbia University. His lab has published over 200 studies on synaptic function in normal and diseased states that are cited over 40,000 times (h-index 86). He is the founder of the Dopamine Society, the Gordon Conference on Parkinson's Disease, and the journal Nature Parkinson's Disease. He has received awards from the McKnight, Simons, Helmsley, NARSAD, Huntington's, and Aaron Diamond Foundations and given named lectureships at the National Institutes of Health, Harvard, Yale, UCSF, Emory, UC Irvine, and the Universities of Minnesota, Jerusalem and London and the Portuguese and Austrian Societies for Neuroscience. His students and postdocs have received Fulbright, Marshall, and Regeneron awards for their work in the lab, and past trainees are professors at Columbia, Rutgers, Cornell, Yale, Lund, Pittsburgh, Jefferson, Tufts, Emory, Karolinska, Ecole Normale Superieure, and NYU, while one who runs a pharmaceutical company and one is the science editor at the Wall Street Journal.

Eugene V. Mosharov, PhD

My long-standing research interest is to determine mechanisms responsible for differential susceptibility of neurons in neurodegenerative disorders, such as Parkinson's Disease. Other research directions include studying cell-type specific mechanisms of activity-dependent exocytosis and synaptic plasticity.

Mark Sonders, PhD

Associate Research Scientist

I use optical microscopy techniques to explore questions in neuropharmacology, brain structure, function, and disease.

Ellen Kanter, MS

Expert in making primary dopaminergic neuronal cultures.

Kim (Ngan) Tran

Clinical Research Coordinator

BSA of Biochemistry from University of Texas at Austin. I studied developmental molecular biology on multiciliate cells in the oviduct and I'm currently coordinating clinical recruitment for autoimmunity in neurodegenerative disorder studies

Vanessa Morales, ALAT

Vanessa is ALAT accredited specialist in animal care and the person to go to with all animal care and genotyping needs.

Sejoon Choi, PhD

Associate Research Scientist

Studying alpha synuclein-dependent regulation of L-type calcium channels in Substantia nigra dopamine neurons.

Stefano Cataldi, PhD

Associate Research Scientist

B.S. Pharm from the University of Ferrara and PhD in Neuroscience from UBC, Vancouver. My focus is on motor learning and how is processed by the striatum, using calcium imaging and computational analysis.

Avery McGuirt, PhD

Avery's areas of investigation include the postnatal development of the striatum, and striatal activity contouring underlying cue-directed behaviors.

Adrien Stanley

B.S. from the University of SUNY Old Westbury. I am studying the role the tail of the striatum plays in processing of learned safety signals as well as aversive stimuli, using fiber photometry and pharmacological approaches.

Ben Hobson, PhD

MD/PhD Student, finishing up MD

Colorado native got lured into the concrete jungle by the scent of RNA biology in dopamine neurons, co-mentored by Peter Sims.

Connor Monahan

Co-mentored by Dritan Agalliu, is studying the role of the adaptive immune response in the initiation and progression of Parkinson's disease.

Xavier Westergaard

B.S. from Yale College. I am developing an imaging system based on the combinatorial use of fluorescent false neurotransmitters and genetically-encoded monoamine reporters to trace serotonin uptake and release.

Stavros Fanourakis, MS

Stavros holds a master's in toxicology from the Mailman School of Public Health. Interested in mechanisms of neurodegenerative disease development, the role of Ca regulation in Parkinson's Disease, and the effect of environmental exposures on the brain and mind.

Ryan Dosumu-Johnson, MD/PhD

I received my M.D. and Ph.D. in Neuroscience from Harvard Medical School. I am currently a Child and Adolescent Psychiatry Fellow at Columbia and Weil Cornell and a Leon Levy Research Fellow. My scientific interest lies in how microtubule dynamics affect the interplay between synaptic plasticity, environment, and development. Co-mentored by Dr. Francesca Bartolini.

Siham Boumhaouad

As a Fulbright grantee, Siham is investigating the impact of melatonin in CBA/CaJ and C57BL/6J mice, as the main circadian rhythm output, on extracellular dopamine release in the striatum using cyclic voltammetry.

Oliver Belleza

Ollie is a visiting PhD student from the Medical University of Vienna. He investigates novel chemical tools for studying monoamine neurotransmitter transporters. His current work focuses on visualizing fluorescent drug conjugates on serotonin transporters in the mouse brain. He is also interested in exploring the relationship of dopamine and antidepressants of the selective serotonin reuptake inhibitor (SSRI) class. Ollie is supervised by Prof. Dr. Harald Sitte as part of the PhD program, Molecular Drug Targets (MolTag) supported by the Austrian Science Fund (FWF W1232).

Anika Frank, MD

Postdoctoral Research Fellow

MD from Hannover Medical School and neurologist in training specifying in the treatment of Parkinson's disease (PD). Electroconvulsive therapy (ECT) is an effective treatment for major depression but has also been shown to improve motor symptoms in PD. My project aims to investigate the potential mechanisms of action of ECT in a PD mouse model with a focus on striatal plasticity.

Miriam Pillerová, PhD

Postdoctoral Research Scientist

My research is focused on elucidating new means to image neurotransmission and developing new compounds that can improve the imaging of neurotransmission as well as novel types of drugs that can more effectively treat neuropsychiatric disorders with fewer side effects. Specifically, I am focusing on measuring the co-release of DA/Glut, DA/NE, and NE/Glut in different brain areas using optical recordings in vivo and in situ.
Select Publications
Somayaji M, Cataldi S, Choi SJ, Edwards RH, Mosharov EV, Sulzer D. A dual role for α-synuclein in facilitation and depression of dopamine release from substantia nigra neurons in vivo. Proc Natl Acad Sci U S A. 2020 Dec 22;117(51):32701-32710. Epub 2020 Dec 3. PMID: 33273122.

Lieberman, O.J., M.D. Frier, A.F. McGuirt, C.J. Griffey, E. Rafikian, M. Yang, A. Yamamoto, A. Borgkvist, E. Santini, and D. Sulzer. 2020. Cell-type-specific regulation of neuronal intrinsic excitability by macroautophagy. eLife. 9. PMID: 31913125

David Sulzer, Roy Alcalay, Francesca Garretti, Lucien Cote, Ellen Kanter, Christopher Liong, Carla Oseroff, John Pham, Myles B Dillon, Chelsea Carpenter, Daniela Weiskopf, Elizabeth Phillips, Simon Mallal, Bjoern Peters, April Frazier, Cecilia S. Lindestam Arlehamn, Alessandro Sette (2017). T cells of Parkinson's disease patients recognize alpha-synuclein peptides. Nature, 546:656-661. PMID:28636593

Tang, G., Gudsnjk K., Kuo S-H, Cotrina M, Rosokliga G., Sonders M, Kanter E., Barnard C, Yamamoto A, Yue Z, Champagne F, Dwork, A. J., Goldman J., Sulzer, D. (2014) Dendritic spine pruning defects in autism mediated by neuronal loss of macroautophagy. Neuron, 83:1-13. PMID: 25155956

Cebrian, C., Budhu, S., Zucca, F.A., Mauri, Pl, Mandelbaum, J., Scherzer, C., Vonsattel, J.P., Zecca, L., Loike, J.D., Sulzer, D. (2014) MHC-I expression renders catecholaminergic neurons susceptible to T-cell mediated degeneration. Nature Communications, 16:1-14. PMID:24736453

Daniela B. Pereira, Yvonne Schmitz, József Mészáros, Paolomi Merchant, Gang Hu, Shu Li, Adam Henke, José E. Lizardi-Ortiz, Richard J. Karpowicz Jr, Mark Sonders, Ellen Kanter, Pamela C. Rodriguez, Eugene Mosharov, Dalibor Sames*, David Sulzer* (2016) Imaging individual synapses with novel fluorescent false neurotransmitter FFN200 reveals a low density of active striatal dopamine terminal. Nature Neuroscience, 19:578-586. PMID:26900925