Sulzer Lab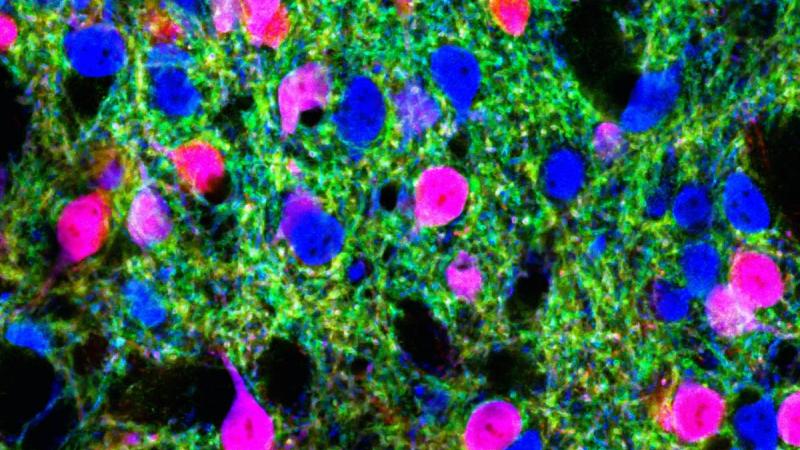 Location and Contact Information
Open location in Google Maps
1051 Riverside Drive
Kolb 4th floor, Unit 1
United States
Our lab studies the physiology and cell biology of neurotransmission, particularly with dopamine and the striatum, and mechanisms involved in both normal and diseased functions of these systems. We developed the first methods to directly record the fundamental unit of neurotransmitter release (the quantal event) and its kinetic modulation (using amperometry), developed new culture methods for primary dopaminergic neurons, and with Dalibor Sames's lab (Dept. of Chemistry), invented the first optical methods for detecting neurotransmitter uptake and release (fluorescent false neurotransmitters).
With the Sames lab, we are developing novel non-genetic chemical reporters of neurotransmission and activity for future use in the clinic. We discovered autoimmune features of Parkinson's disease and neuronal antigen presentation, and with collaborators (Dritan Agalliu, Columbia University, Alessandro Sette, La Jolla Institute for Immunology) are defining the immunological features of brain disorders in human and animal models.
We introduced the study of autophagy in neurons and are determining the role of these pathways in autism, the developmental steps for basal ganglia neuron maturation, synaptic formation and pruning, and how these change in neurodegeneration (with Ana Maria Cuervo, Albert Einstein College of Medicine).
We are adapting multiple in vivo and in vitro physiological and optical methods to define the properties of specific central nervous system pathways and modifications that integrate sensory inputs and motor activity that underlie reward, fear and safety, and motor skill learning.
Explore Our Research
Contact the Sulzer Lab
By Phone:
By Email:
Lab Members
Current Members
David Sulzer, PhD

Professor of Psychiatry, Neurology, Pharmacology

Dave Sulzer is a professor of Psychiatry, Neurology, Pharmacology, and at the School of the Arts at Columbia University and New York State Psychiatric Institute. He attended Michigan State University, studied plant breeding and genetics at the University of Florida, and received a PhD in biology from Columbia University. His lab has published over 200 studies on synaptic function in normal and diseased states that are cited over 40,000 times (h-index 86). He is the founder of the Dopamine Society, the Gordon Conference on Parkinson's Disease, and the journal Nature Parkinson's Disease. He has received awards from the McKnight, Simons, Helmsley, NARSAD, Huntington's, and Aaron Diamond Foundations and given named lectureships at the National Institutes of Health, Harvard, Yale, UCSF, Emory, UC Irvine, and the Universities of Minnesota, Jerusalem and London and the Portuguese and Austrian Societies for Neuroscience. His students and postdocs have received Fulbright, Marshall, and Regeneron awards for their work in the lab, and past trainees are professors at Columbia, Rutgers, Cornell, Yale, Lund, Pittsburgh, Jefferson, Tufts, Emory, Karolinska, Ecole Normale Superieure, and NYU, while one who runs a pharmaceutical company and one is the science editor at the Wall Street Journal.

Eugene V. Mosharov, PhD

My long-standing research interest is to determine mechanisms responsible for differential susceptibility of neurons in neurodegenerative disorders, such as Parkinson's Disease. Other research directions include studying cell-type specific mechanisms of activity-dependent exocytosis and synaptic plasticity.

Mark Sonders, PhD

Associate Research Scientist

I use optical microscopy techniques to explore questions in neuropharmacology, brain structure, function, and disease.

Ellen Kanter, MS

Expert in making primary dopaminergic neuronal cultures.

Yaqian (Heather) Xu, MD, MPH

Clinical Research Coordinator

MD from Sichuan University, China and MPH from Columbia University coordinating clinical recruitment for autoimmunity in neurodegenerative disorders studies.

Vanessa Morales, ALAT

Vanessa is ALAT accredited specialist in animal care and the person to go to with all animal care and genotyping needs.

Irena Pigulevskiy

I have a BS in Pharmacology from Stony Brook University, and have been utilizing my expertise in cell culture, molecular biology, and electrophysiology to further the understanding of what effects development has on the striatum.

Sejoon Choi, PhD

Associate Research Scientist

Studying alpha synuclein-dependent regulation of L-type calcium channels in Substantia nigra dopamine neurons.

Michael Post, PhD

Originally from Florida, PhD from Caltech chemistry, and currently interested in new techniques for imaging dopamine release.

Mahalakshmi Somayaji, PhD

Postdoctoral Research Scientist

Investigating mechanisms underlying drug addiction and neuropsychiatric disorders.

Stefano Cataldi, PhD

Postdoctoral Research Scientist

B.S. Pharm from the University of Ferrara and PhD in Neuroscience from UBC, Vancouver. My focus is on motor learning and how is processed by the striatum, using calcium imaging and computational analysis.

Wudu Lado, PhD

Postdoctoral Research Scientist

Studying the role of cytomegalic neurons in TSC-mediated epilepsy with Guomei Tang as PI and David Sulzer as Co-PI.

Ori Lieberman, PhD

MD/PhD Student, finishing up MD program

Scientific interests include mechanisms of basal ganglia development, especially the role of autophagy in postnatal development of the striatum, with implications for neurodevelopmental diseases such as autism and ADHD.

Avery McGuirt

Avery's areas of investigation include the postnatal development of the striatum, and striatal activity contouring underlying cue-directed behaviors.

Adrien Stanley

B.S. from the University of SUNY Old Westbury. I am studying the role the tail of the striatum plays in processing of learned safety signals as well as aversive stimuli, using fiber photometry and pharmacological approaches.

Ben Hobson

Colorado native got lured into the concrete jungle by the scent of RNA biology in dopamine neurons, co-mentored by Peter Sims.

Connor Monahan

Co-mentored by Dritan Agalliu, is studying the role of the adaptive immune response in the initiation and progression of Parkinson's disease.

Xavier Westergaard

B.S. from Yale College. I am developing an imaging system based on the combinatorial use of false fluorescent neurotransmitters and genetically-encoded monoamine reporters to trace serotonin uptake and release.

Mark De Los Santos

Graduate Rotation Student

Mark came to NYC from undergrad at UT Dallas interested in the immunological aspects of neurodegenerative diseases. Only time and the rotations will tell what else he gets hooked onto.
Select Publications
Somayaji M, Cataldi S, Choi SJ, Edwards RH, Mosharov EV, Sulzer D. A dual role for α-synuclein in facilitation and depression of dopamine release from substantia nigra neurons in vivo. Proc Natl Acad Sci U S A. 2020 Dec 22;117(51):32701-32710. Epub 2020 Dec 3. PMID: 33273122.

Lieberman, O.J., M.D. Frier, A.F. McGuirt, C.J. Griffey, E. Rafikian, M. Yang, A. Yamamoto, A. Borgkvist, E. Santini, and D. Sulzer. 2020. Cell-type-specific regulation of neuronal intrinsic excitability by macroautophagy. eLife. 9. PMID: 31913125

David Sulzer, Roy Alcalay, Francesca Garretti, Lucien Cote, Ellen Kanter, Christopher Liong, Carla Oseroff, John Pham, Myles B Dillon, Chelsea Carpenter, Daniela Weiskopf, Elizabeth Phillips, Simon Mallal, Bjoern Peters, April Frazier, Cecilia S. Lindestam Arlehamn, Alessandro Sette (2017). T cells of Parkinson's disease patients recognize alpha-synuclein peptides. Nature, 546:656-661. PMID:28636593

Tang, G., Gudsnjk K., Kuo S-H, Cotrina M, Rosokliga G., Sonders M, Kanter E., Barnard C, Yamamoto A, Yue Z, Champagne F, Dwork, A. J., Goldman J., Sulzer, D. (2014) Dendritic spine pruning defects in autism mediated by neuronal loss of macroautophagy. Neuron, 83:1-13. PMID: 25155956

Cebrian, C., Budhu, S., Zucca, F.A., Mauri, Pl, Mandelbaum, J., Scherzer, C., Vonsattel, J.P., Zecca, L., Loike, J.D., Sulzer, D. (2014) MHC-I expression renders catecholaminergic neurons susceptible to T-cell mediated degeneration. Nature Communications, 16:1-14. PMID:24736453

Daniela B. Pereira, Yvonne Schmitz, József Mészáros, Paolomi Merchant, Gang Hu, Shu Li, Adam Henke, José E. Lizardi-Ortiz, Richard J. Karpowicz Jr, Mark Sonders, Ellen Kanter, Pamela C. Rodriguez, Eugene Mosharov, Dalibor Sames*, David Sulzer* (2016) Imaging individual synapses with novel fluorescent false neurotransmitter FFN200 reveals a low density of active striatal dopamine terminal. Nature Neuroscience, 19:578-586. PMID:26900925